I don't remember when I last had an undisturbed sleep throughout the night. And the past two weeks has been even worse with both kids sick. Besides the usual cough, phlegm and running nose, the little one also had the forbidden fever. In general terms, his fever wasn't very high, hitting about 37.5 degrees at most. But that is enough to get us pumping him with panadol to bring the fever down.
I can almost hear cries of protests, that I should let the fever run its course, that little AA's immunity system will right itself, that I shouldn't give him panadol, or nurofen for that matter.
Fever is our most dreaded enemy, ever since last year. Ever since AA was diagnosed as being epileptic. That is, having seizures for no rhyme or reason, when not having fever. That was when his condition first surfaced. We've done all the tests there is to be done: ECG, MRI, lumber puncture. No conclusive causes have been found. We don't know what caused his seizures, and little AA has to be on daily medication to manage his condition.
It all seemed to be going well until AA came done with high fever late last year and then had seizures six times in 24 hours. My heart aches when I think about that, how his body stiffened up, how listless his beautiful face looked, how he went into another cluster of attacks when he was in the hospital for the third time in nine months, being poked and jabbed and checked by the doctors and nurses. He was in ICU for a few hours, then spent a night in the high dependency ward before heading down to the normal ward for another. He didn't like being there, neither did we. We wanted him out, we wanted him to be well. No kid of 20 months should undergo such an experience. But he had to stay for at least 24 hours without any attacks before he could be discharged. Fortunately, we went home to welcome the new year.
AA's 'bandaged' hand to prevent him from pulling the tubes, during his second hospitalization.

The doctors said his was a breakout seizure, his body was trying to deal with the high fever. Whatever it was, one thing is clear. Given AA's condition, he is more vulnerable to relapses when he has fever. That's why whenever the slightest fever comes, I rather give him panadol than wait. I do not want a second horrible episode to occur again. I don't want to see my baby go through that again. It's painful for him, it's painful to see him go through it.
It took me a while before I decided to write this. It's really not a nice thought knowing your baby has a condition that requires him to be on regular medication, with regular visits to the neurologist who always says we can only observe and hope it doesn't get worse. Something that might stay with him for his whole life, and I pray to God it doesn't. Holidays are a worrying thought: what if he gets an attack while we're overseas? DaddySay asked if it's our intention to overprotect him. No. We both want AA to lead a normal life like everyone, but it's hard not to get worried, not to be scared.
It's very true what they say: fear of the unknown is really fearful. Fear of what might not happen can zap one's energy away utterly. As parents, all one wants to do is to protect one's child. If the child is unwell, as long as there is a cause, there is a solution. Not knowing the cause, not having a solution and not knowing how long it will last is a terrible, terrible feeling.
It's tiring and draining, but we push these thoughts to the back of our minds. We move ahead day by day, inspired by the chirpy welcome AA gives us each day when we get home from work, amused by his innocent cheekiness, blessed by his endearing hugs. We are motivated to continue for as long as it takes. All for our beloved AA. May God bless us and keep us strong on this journey.
Linking up with: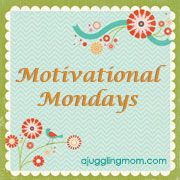 **********